'Something old, something new, something borrowed, something blue…'
It's one of the best known traditions around weddings – typically encouraging brides to accessorise with a lovely piece of Grandma's vintage jewellery (old; borrowed) and perhaps a garter laced with blue ribbon (new; blue).
While it's also traditional to associate weddings with white, there's plenty of opportunities to add in some colour to the spectacle of a modern-day wedding.
Classic Blue happens to be the 2020 Colour of the Year. (Some might say blue was the colour of our mood during 2020 when lockdown got us down, but enough on that…) International colour experts Pantone (who apparently influence fashion, brands and product design) said Classic Blue instils 'calm, confidence and connection'. Who couldn't do with more of that on their special day?
So here's 5 ways to bring something blue into your wedding day.
Option 1 – Blue ocean views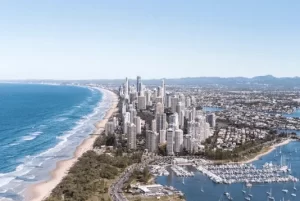 Those of us who are lucky enough to live on the Gold Coast already understand the beauty of the ocean and our beaches. And with the weather smiling on you, the vastness of a blue sea can be a spectacular backdrop to your nuptials.
You'll need a council permit for a beach wedding on the Gold Coast but – BONUS – it's completely free and there are few restrictions. You'll find plenty of ocean blue to choose from between The Spit and Coolangatta or on South Stradbroke Island. Further afield, it's not a surprise that destination weddings are also heavy on amazing water views. Think the tropical paradise of the Whitsundays or before travel restrictions, exotic locales such as Pacific and Greek islands.
Option 2 – Style it blue
If you aren't planning a seaside wedding, how about bringing some of the colours of our ocean and big sky into your styling?
In fact blues of any hue can suit classic, contemporary or boho chic weddings. Choose across a wide spectrum of colour – from soft powder blue and eggshell blue, indigo and dusty denim, stunning teal, azure and sapphire blues or even bolder royal or navy blue.
Blue might not make the list for the central colour on your palette but it makes a versatile complementary colour. It can be introduced in the soft furnishings such as chair cushions, decor items such as draping and backdrops, in the tableware, glassware, table linens and centrepieces.
Option 3 – Blooming blue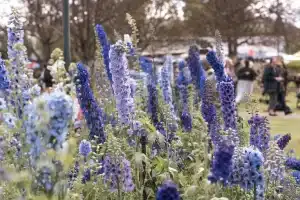 It's spring so we can't help but think of flowers and especially when we think of wedding styling.
And while blue is apparently the rarest natural flower colour, there are still plenty of true blue blooms that will look a treat in bouquets for the bridal party, or in floral arrangements at your venue. From the delicate to the dramatic, think irises, forget-me-nots, delphiniums, hyacinths, hydrangeas and more. There's even native Aussie greenery that's …well, blue. A delicate, silvery-blue Eucalypti whose structured stems often feature in classic through to boho bridal bouquets.
Your florist will guide you on what flowers and foliage are in season, what's available naturally and what might need a colour touch-up (aka secret floristry magic).
Option 4 – Colour the crowd blue
My cousin married last year to his beautiful French bride in a ceremony on the beach near their home in Tasmania. The wedding invitation from the ocean lovers included a request for a 'blue wave' from their guests – with everyone to try to include a touch of blue in their outfit. The groom wore a handsome blue waistcoat, the groomsmen and bridesmaids wore blue, and guests were treated to shady straw hats with blue ribbons as we walked to the beach…
It was fun, frivolous and certainly a focal point for the festivities.
If something blue has a special meaning to you, think about something similar to involve your guests.
Option 5 – Blue bonbonniere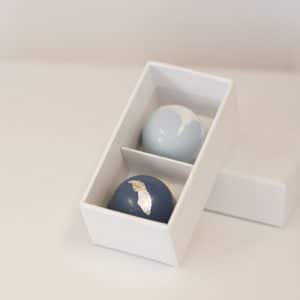 Bonbonniere or wedding favours are another wedding tradition – small take-home gifts for your guests thanking them for sharing your special day.
Often arranged on the guests' table setting at sit down weddings, or on their own special table at less formal events, these little gifts are another opportunity to introduce some colour into your wedding day. Here's a suggestion: Little Cocoa's exquisite handcrafted chocolate pralines in a classic white, 2-piece box.
Where's the blue? We can personalise your wedding favours to suit your colour theme. The chocolates themselves can be styled pretty as a picture and any colour you want with food safe colours including blue. Your names and wedding date can be stamped in a beautiful blue foil on the gift box lid.
I guarantee you and your guests will love them.
Related : Shop Wedding Favours